If you've been playing around with the beta version of Photoshop 2024 for what seems like forever, it's time to get real as the official release has been unveiled. We enlisted the help of one of the world's most acclaimed image-editing experts to help you understand and use the most important new capabilities.
Instructor Unmesh Dinda lives in Mumbai, India but he's an internationally acclaimed image-processing expert who teaches workshops across the globe. There are almost five million subscribers to his wildly popular YouTube channel and if you're not already a follower it's time to take a look.
In this episode Dinda takes a deep dive into the headline features of Photoshop 2024, and insists that "with new Filters, Generative AI, and several fixes, this update changes the course of Photoshop forever." So set aside 12 minutes, pull up a chair, grab pen and paper, and let's dig in.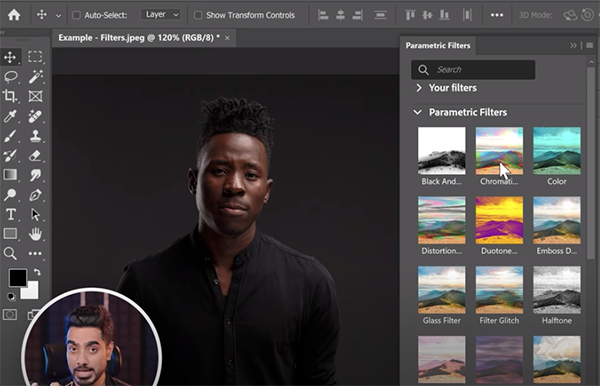 Dinda begins with what he calls "Filters on steroids" and this description isn't too far off base, because there's a myriad of new options and he demonstrates how they work. You can easily modify every aspect of this tools, modify the intensity of colors, and change the opacity of each effect. All of these filters are non-destructive in nature, so you have the option of a do-over whenever you want.
If you're unfamiliar with executing an update Dinda explains how to do that by going to your Creative Cloud desktop app to quickly get this "shocking" new version. Then Dinda turns to a description of Photoshop's new Remove tool and the updates it includes. As you'll see it offers more control and versatility than ever before.
Next on Dinda's list are what provoked all the excitement over the beta—namely the remarkable AI-based Generative Fill and Generative Expand features. If you've yet to experiment with these amazing tools Dinda will quickly get you up to speed today. Photoshop 2024 also includes a guided tutorial you can always refer to if you run into a jam.
Some folks have wondered about any potential limitations for using Photoshop's generative features, and Dinda clarifies all that, while explaining how Adobe's "Generative Credits" work. Basically, you'll receive a certain number of credits, depending upon your plan, and you'll spend them whenever using any of the generative capabilities.
Dinda explains how to determine the number of credits you have. You'll still be able to use Generative Fill and Generative Expand once you've used up your credits, but the process will slow down. At some point in the future Adobe will offer the opportunity to purchase more credits if you so desire.
There's much more to learn in this lesson for speeding up the learning curve, to take a close look and jot down a few notes. Then head over to Dinda's YouTube channel for more image-editing tips and tricks.
And for those of you who are Lightroom users, be sure to check out the beginners guide we posted that explains everything you need to know about tools in the Basic tab.