There's still time to get outside and capture the colorful splendor of autumn, before winter drastically changes the landscape. If the images you capture don't appear as vibrant as what you saw through the viewfinder, this tutorial is for you.
In the video below, German landscape pro Christian Mohrle reveals his favorite editing tricks for pumping up photos that look a bit flat. His goal for the demonstration image is to add drama to the sky, make the foreground reflections more visible, and add color and contrast for a dramatic yet realistic result.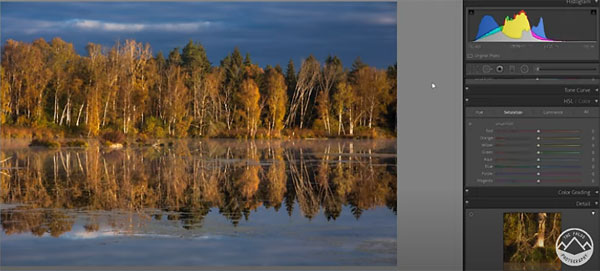 Before you launch click "Play," we suggest downloading the Raw file in the description beneath the video so you can follow along in real time and make Mohrle's adjustments yourself. Doing this will make it easier to remember the technique for future use.
As always, Mohrle gets started by changing the camera profile to match the task at hand—in this case to Adobe landscape. As you'll see, this alone gives the image more saturation.
He then makes several basic global enhancements, which include adjusting white balance for more natural colors, increasing the whites, dropping the blacks, slightly pushing the shadows, and increasing texture and vibrance.
Next Mohrle turns to local adjustments to enhance different portions of the scene. He first employs a linear gradient to darken the sky, and then drops the color temperature to create more contrast between the deep blue sky and the warm autumn colors.
Another linear gradient is added to the foreground to both increase clarity and target the whites for a boost in the reflections. All that's left are a few simple color adjustments, like increasing yellow and blue saturation, boosting yellow and orange luminance to brighten the foliage, and dropping blue luminance to further darken the sky.
You can find more landscape editing tips on Mohrle's YouTube channel, so be sure and take a look. And check out the tutorial we posted from another editing expert, explaining how to use one-click Photoshop Actions for fixing photos fast.