We've all had the misfortune of traveling to a beautiful destination with a lake in the foreground of a stunning landscape, only to discover boring light, a drab cloudless sky, and water devoid of the brilliant reflections we anticipated.
You can always go home and try again another day. A better choice is to bang off a few shots and use Photoshop to really make them sing with the simple tips below. Call it magic, call it cheating, call in whatever you want, but after watching this 11-minute tutorial you'll have some new tricks in your tool bag for those times when Mother Nature needs a helping hand.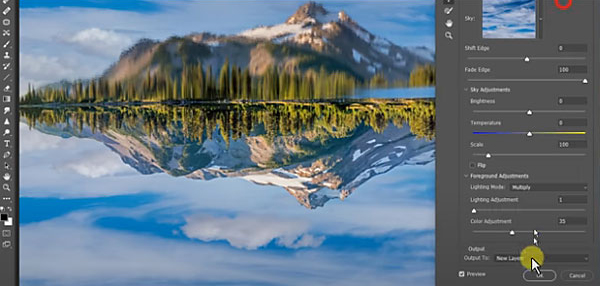 Blake Rudis of f64 Academy is known for easy-to-follow tutorials with a scholarly approach, and he introduces this episode by saying, "Thank goodness for Photoshop." That's because he demonstrates how easy it is to make killer sky and reflection replacements that will give ho-hum nature scenes the WOW factor.
Rudis also provides a download in the description below the video, with seven skies and a Photoshop Action that automates the process. But we strongly encourage you to watch the entire video so you know how to accomplish this easy task yourself.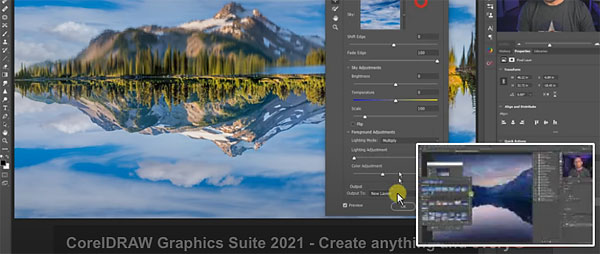 What makes this approach so compelling is that it provides stunning results with a clean, natural look—as opposed to other methods that often yield overcooked images. After pulling up a sample image, Rudis show you how to quickly replace the sky and the foreground reflection.
Then you'll learn a few more tricks to make everything look just right. These include blending the reflections, adjusting contrast, and adding a motion blur to mimic what a bit of wind would do. After a quick final refinement it's done. Then Rudis explains what's included in the download and how to use the skies and Action he provides.
For more editing tips head over to Rudis' popular YouTube channel. And be sure to watch another powerful tutorial we posted, explaining how to shoot telephoto landscape photos with no tripod and high ISOs.