Well-developed composition skills are vital for all forms of outdoor photography, and perhaps no more so than when shooting the urban landscape. That's because cityscapes are jammed full of buildings, pedestrians, and vehicles—making proper framing a challenge.
In the behind-the-scenes video from Paris, French pro Serge Ramelli offers several great tips for making sense out of the chaos, so you know what elements to keep in a shot, and which ones to exclude. Shooting on an unusually cold day in May, Ramelli describes his approach like this: "Composition is the art of telling a story though a photo."
That's a difficult, if not impossible, task to achieve if there's so much going on that a viewer doesn't know where to look. Unless he's using long exposures Ramelli prefers to shoot hand-held, unencumbered by a tripod, so he can move around easily while scouting  location—in this case the iconic Eiffel Tower. When the light isn't right, he settles on a composition, and returns when conditions improve—perhaps at Blue Hour later in the day.
Ramelli explains the gear  he uses, with lenses of widely different focal lengths, so he can capture very different images of the same scene. He always begins with "classic" views of notable structures, but then moves on to less-familiar views with a unique twist. That may mean photographing the backside of a famous building or shooting from a unique perspective—either high from a rooftop or low to the ground.
There's some good advice on camera settings, in addition to the seven composition tips Ramelli reveals, and he includes exposure information on the photos in the video. Ramelli tries to shoot at ISO 100 whenever possible, and he likes to slightly underexpose his shots. You'll also see why he almost always uses his camera's Spot Focus mode.
Ramelli takes advantage of leading lines for his first shot, but he waits until tourists move out of the frame, "because in this instance they're not part of the story I want to tell." He excludes other objects, for much the same reason, as he continues moving around the tower while capturing more images.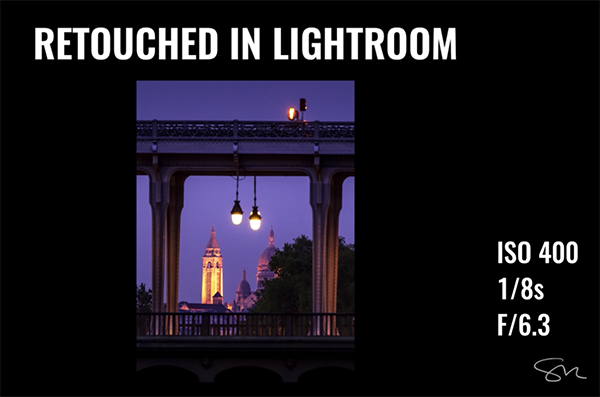 Next, Ramelli creates a totally different image of his subject by moving to the other side of a famous nearby bridge and uses this structure as an object to frame the Eiffel Tower for an interesting "frame- within-a frame" effect. This is just a taste of the pro tips you'll learn by watching the lesson—with valuable advice that you can try in the city where you live.
Ramelli's popular YouTube channel includes lessons on landscape, travel, and cityscape photography, so be sure to pay a visit.
And don't miss the tutorial we posted earlier, in which another pro contradicts Ramelli by saying, "stop shooting at ISO 100."